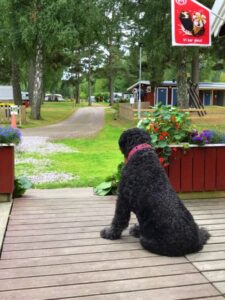 Do you want to go on holiday with your pet? You are most welcome together at our campsite!
We are a pet-friendly campsite where you can enjoy your holiday with your dog, cat or other animal. In all our accommodation we have availability to take your animal with you. Around the campsite you will find nice hiking trails to let your animal out and the possibility to bathe.
Pets must be kept on a leash on the camping site. Your pet is also not welcome in the service building, kiosk or in the playground. These rules are necessary to give people with allergies or fears of animals a carefree holiday. In the unlikely event that you have to leave for a longer period of time and your animal cannot come with you, we offer the possibility that we 'keep an eye on your pet'.