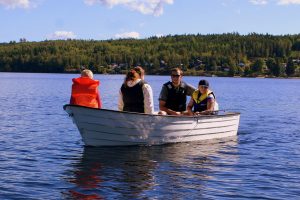 Boat rental with 4 hp engine. The boats are suitable for fishing or a round on the lake. The boat can accommodate up to three adults or 5 persons. In the price is included fuel, life jackets, release to the boat ramp and the launching of the boat.
Rental for 4 hours in the morning or afternoon. Minimum age for renting is 18 years. We require a legitimacy which will be taken as collateral.
Skagern is big and the wind can cause high waves, therefore we do not rent out when there is more than 5 meters per second wind or when a thunderstorm approaches. In all cases we decide whether we rent out or not in view of safety.
Fish cards and depth maps can be purchased in the kiosk at the campsite. We also rent out an assortment box with bait. Rentalprices can be found in the list of rates.