Discover the king of the forest…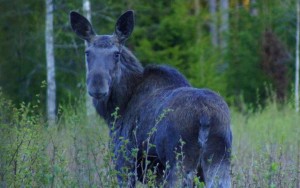 Discover the natural beauty of western Tiveden. During a tour of two and a half hours, we are looking for wild animals in this area. The aim is to observe the king of the forest, the moose. There is a good chance of seeing foxes, deer, cranes, hares and also grouse. Discover the most beautiful places and enjoy spectacular views or our beautiful sunset!
Together with an expert of the area you drive through the vast forest in the four wheel drive Mitsubishi. We can accommodate a group of four people. We don't mix groups.
We leave about two hours before sunset, depending on the weather. This safari has to be booked in advance at least three hours before departure! Be sure to book early during the high season! The price for this wonderful experience is 1000 SEK for the whole group.
We run these safaris from 1st May till 30th September.