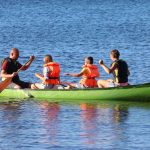 Skagern is one of the largest lakes of Sweden. Why do you not rent a canoe or kayak and discover what it offers you. Paddle along the varied coastline of the Skagern with forest, beach and rocks. Paddle around in the Gudhammersbucht and enjoy the view of the old farmhouse, the brewery and the cattle on the vast meadows. Take a break on an island or a secluded beach. Listen to the birds or catch a big fish.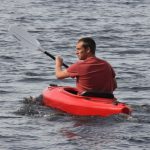 We rent out our canoes and kayaks complete with life jackets. Skagern is big and the wind can cause high waves, therefore we do not rent out when the wind blows more than 3 meters per second. In all cases we decide whether we rent out or not in view of safety.
We rent out between April 15th and November 1th. Off-season by appointment. Rentalprices can be found in the list of rates.